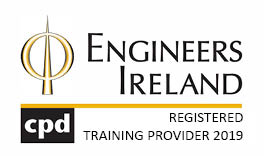 Organisation profile
Entropic Ltd was incorporated in 2000 and provides high-quality ventilation systems for buildings, with a focus on efficiency, safety and comfort.  It provides complete HVAC systems (including air handling units, chillers, chilled beams, kitchen canopies, fire dampers and smoke control dampers) and also aid Consulting Engineers in the ventilation aspects of building design.  It has an extensive portfolio of past projects including work in pharmaceutical and hospital environments.
Training aim
To inform consulting eingineers, architects and local authorities of current legislation and standards relating to fire dampers and smoke control dampers that should be used in ventilation systems.
Learning objectives
To undersdand the difference between a fire damper and smoke control damper.
To understand why and when CE marking became a legal requirement for fire and smoke control dampers in Ireland.
To understand how fire dampers are tested and classified in accordance with the European standards EN 1366-2:1999 and EN 13501-3:2005
To understand the minimum requirements for these products as laid out in the Building Regulations of Ireland and the UK , BS 9999 and HTM 05-02.
Course outline
What are fire dampers and smoke control dampers?
Why do fire dampers and smoke control dampers require a CE mark?
EN standards for fire dampers
The Building Regulations
BS 9999 and the Health Technical Memoranda
Risks of non-compliance and Best Practice Recommendations
Categories and types of fire dampers and smoke control dampers according to EU norms
Advanced monitoring & control systems
Examples of current specification texts
Increasing productivity
Trainer's profile
Barry Stenson – Mechanical Engineer (BA BAI, MSc, MIEI)
Course duration
1 hour
Assessment & certification
Attendence Certificate
Who should attend
Architects, Building Services Engineers, Client Representatives, Mechanical & Electrical Designers, Fire Officers, Fire Specialists and anyone with an interest in the fire protection of buildings.