Entropic provide exceptionally safe and efficient ventilation solutions for laboratory and pharmaceutical workspace environments.
The meaning of laboratory ventilation is to help provide a safe and comfortable environment that facilitates scientific research and teaching. The starting point is that the design team will provide a combination of general laboratory ventilation, fume hoods, and other local exhaust ventilation (LEV), to contain emissions within the laboratory, depending on the specific requirements of the laboratory.
The laboratory solutions we provide are always co-designed and created with the client's team and customized to match the requirements and needs perfectly. Entropic's scope of delivery covers concept and detailed design, delivery of all system components, installation and commissioning.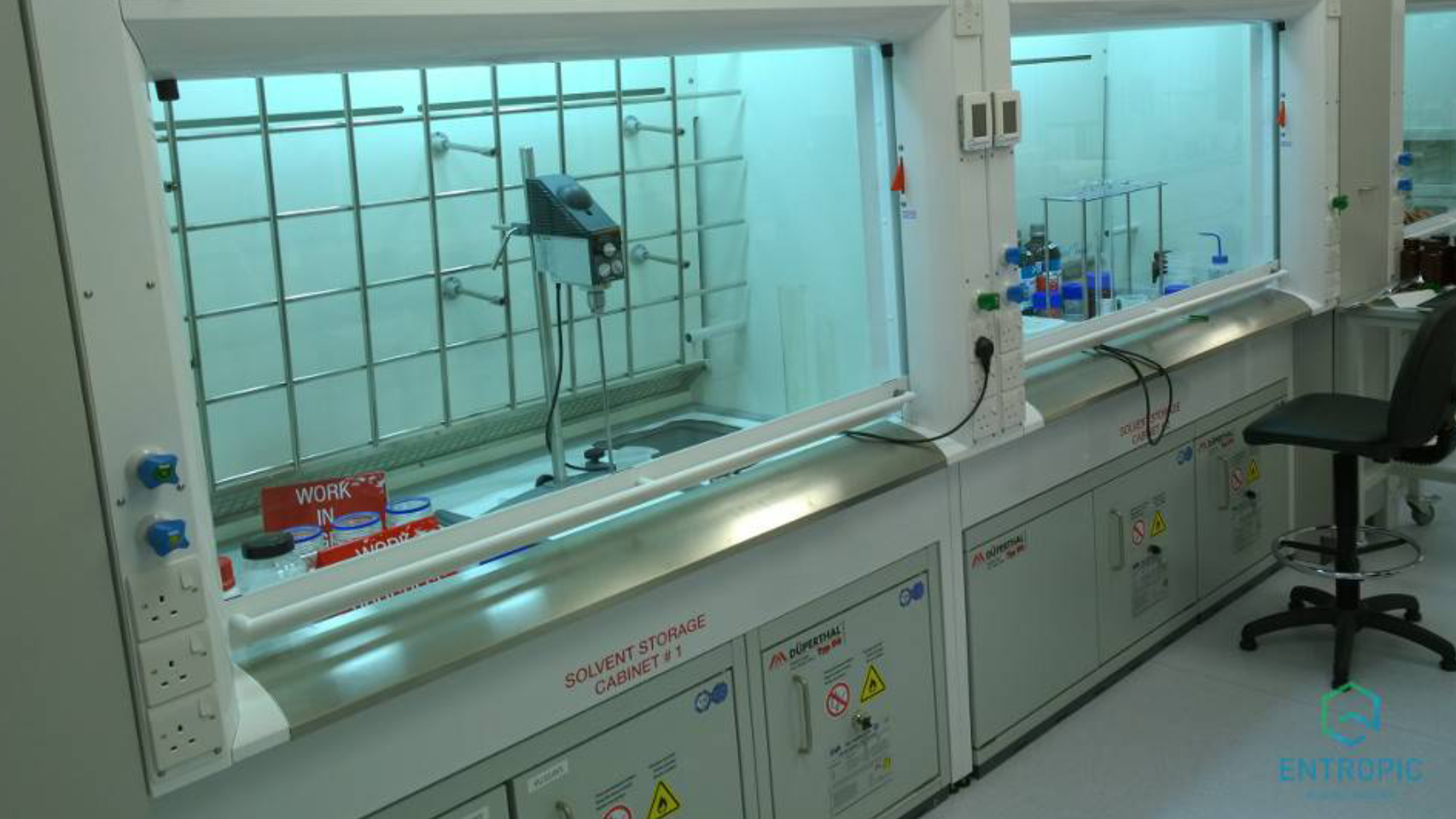 Laboratory ventilation settings is required to promote and maintain laboratory safety and protection to life and property. Items such as fume containment, worker safety, proper cleanliness through pressure relationships, filtration, air changes per hour, point of fume capture, temperature, and relative humidity requirements are elements necessary to design the ventilation system depending on the laboratory type. Codes identify ventilation measures to provide minimum requirements for the protection of life and property through prevention and control of fumes and containment of hazardous fumes and contaminants for worker safety.
Safety comes first
The products we supply are in accordance with the EN 14175 standard. For laboratories with explosion risk, we have ATEX approved products. Fast action system minimizes the risk of personnel exposure in all circumstances.
Energy efficiency, as we do it
The solutions we provide control indoor climate conditions based on demand. Supply airflow follows the exhaust airflow to maintain wanted pressure conditions but also to save energy efficiently.
Comfort guaranteed
We have a strong know-how in air diffusion. Our solutions include optimized air diffusion that ensures pleasant, silent and draught-free conditions for the users.
Reap the rewards
Due to the demand based operation we provide, energy savings can be achieved. The results can be seen within 12 to 18 months. A study based on a constant airflow system compared to the solution we provode, 1,2m wide fume cupboard showed that a constant airflow system had 50% higher energy use (EN 14175 ventilation conditions).
Depending on the ventilation design and with thanks to this solution, the payback time can be shorter to less than 12 months.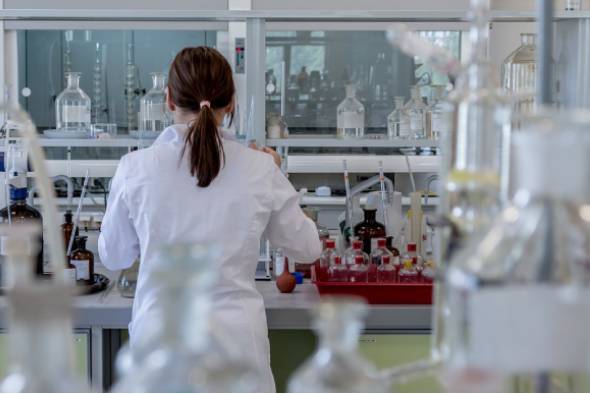 Entropic Laboratory Systems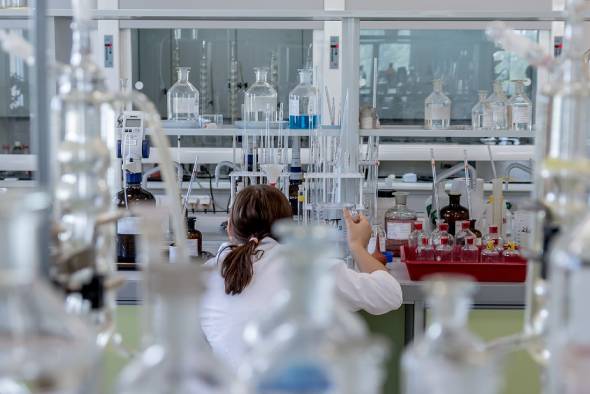 Entropic's integrated system is designed for pressurization and indoor environment management of laboratories. The system is applicable to laboratories both in health care and industries as well as to pharmacies, isolation rooms, operating theatres and other clean rooms.
Operation of the system
The system manages fume cupboard operation and ventilation and air conditioning of the laboratory space.The pressure conditions of the space are maintained by matching the supply air flow to fume cupboards, local exhausts, constant flow cupboards and general exhaust.
Thanks to the short response time, the pressure conditions are maintained precisely without delays. The system also manages the indoor air temperature and with fast action airflow control damper, including coils as an option for temperature control, and draught-free air diffusion to ensure comfort and success of the laboratory research activities.
The system is available with several preconfigured applications:
Supply airflow control tracks fume cupboard exhaust airflows. It is based on total room exhaust airflow rate which also takes into account the minimum ventilation rate requirements and the room air temperature management.
The system is easy to scale-up thanks to the user-friendly touch screen control panel.
ATEX applications (optional)
Entropic provides ATEX compliant system components for zones with explosion risks. The ATEX air flow controllers have stainless steel structure for maximum chemical agent resistance.
Safety and operation efficiency designed and maintained
Fast and responsive system for maximum safety and fume containment
Comfortable and draught-free working conditions
Reduced energy consumption of the entire laboratory
Different access levels to the control system for easy integration and maintenance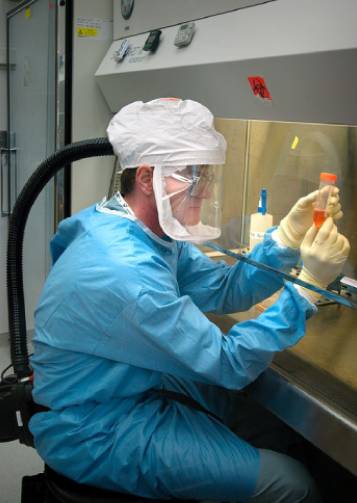 Our systems are the fastest and most accurate for all types of fume cupboard configurations. We deliver solutions that are easy to install and maintain.
All of our systems come with an interactive touch screen and airflow sensors with an adjustment period of 3 seconds.
Entropic's lab system supervises the laboratory conditions in real-time and provides alarms in case of a malfunction. The supervision is done via clear and visual interface that enables operation and control parameters to be easily controlled, reset and downloaded.
Room temperature and pressure conditions are displayed in a second. All the chosen parameters of every fume cupboard of the laboratory are visualized in relation to their set points. Visualizations of measured data and set points make the system very illustrative.
Besides this, there is also a monitoring and supervising system offered, that provides storage and traceability of the data.
Our expertise allows us to design solutions for:
single fume cupboards
multiple fume cupboards with single room air pressure control
and multiple fume cupboards with multiple room air pressure control.
We used these systems in the Henkel Ireland Operations and Research Building
The client needed to be able to maintain the laboratory room pressurisation profile whatever the fume cupboard operational condition by controlling the laboratory supply air and general extract air.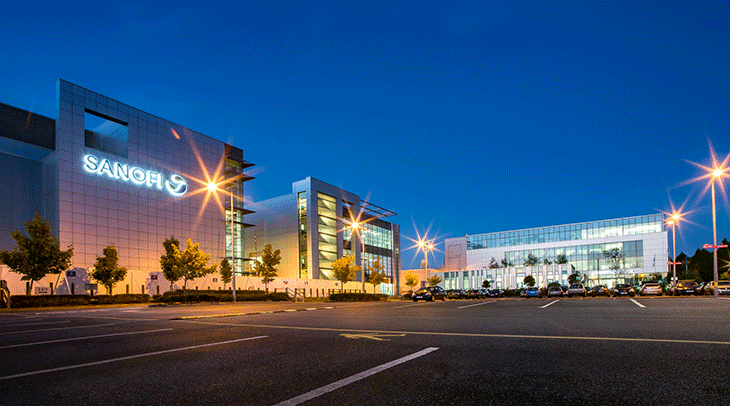 We used the MFC VAV Damper to ensure that the air pressure profile was maintained.
Our control system was also used to limit the number of operational fume cupboards at any one time to 14 (out of 30) and was integrated with Building Management System (BMS) for feedback.
To get detailed information about these systems, download our HIT software where product specifications can be exported to CAD and BIM designs.
Check our Laboratory site references list and laboratory case studies by clicking on the button below.