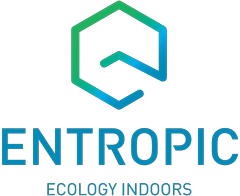 Energy efficient Data Centres
The most energy-efficient data centres use products and innovative techniques that significantly reduce energy consumption and leave minimum carbon footprints.
Free cooling for HyperScale Data Centres
Very large format dampers
Snow, Rain and Storm intake Air Louvres
Air Handling Units
Chillers for Data Centres
List of components in the direction of the airflow
Intake
Dual LED lights and single light switch
Panel filter – coarse 55%
Control panel & sensors
Factory supplied, premounted, prewired
Integrated into AHU casing
Bag filter – ePM1 60%
Access door with inspection window
Dual LED lights and single light switch
Dial type manometer
Evaporative cooler
Access door with inspection window
Dual LED lights and single light switch
Supply fan
4 no. EC DC fan motor with IE5 efficiency
Access door with inspection window
Dual LED lights and single light switch
Motor isolator wired to fans
Factory prepiped airflow measurement grid
Entropic offer a wide range of products:
If you are outside Ireland and are interested in Entropic's services or products offered please use the form below. We will be glad to assist you.
Air Handling Units
Atex Products
Chilled Beams
Chillers & Heatpumps
Diffusers and Terminal Units
Duct Mounted Equipment
External Louvres
Fan Coil Units
Fire Dampers
HEPA Terminals
Radiant Panels
Stainless Steel
Please contact us for more information.
All our products are Eurovent Certified 

Who we are
We are a fully Irish-owned company with no external shareholders. Founded in 2000 by Michael Geraghty and Based in Maynooth – Co. Kildare
What we do
We supply high quality HVAC systems and products internationally.
We assist end users, designers and installers with HVAC design.
We focus on safety, sustainability, compliance and best practice.
Mission
Our mission is to deliver safer, greener, healthier and better buildings while simultaneously reducing capital investment, maintenance and refurbishment costs.
Environmental mission

Build healthier buildings
Reduce pollutants and chemicals
Reduce green house gas emissions
Reduce the use of HFCs in buildings.
The ecological interaction between a person and their environment provides the healthiest conditions for the person while simultaneously providing the best level of comfort, energy use and sustainability.
At Entropic we have many years of experience working with large industrial and commercial customers to implement energy saving technologies and systems. Our experience with large industrial ventilation systems has helped some of the largest energy users in Ireland to significantly reduce their energy consumption, fossil-fuel-CO2 emissions and overhead costs